If you or someone you know is thinking about suicide, call the SOS 24 hour crisis line in Fort McMurray at 780-743-4357 or the National hotline at 1-800-565-3801. 
On average, men die by suicide three times more often than women. The numbers are even higher between the ages of 40 and 60. Men are often raised not to speak about emotions, and therefore, may hide their stress and deal with emotional pain through destructive behaviors and actions, and sometimes suicide, rather than seeking help.
An initiative developed by the Centre for Suicide Prevention, CMHA – Wood Buffalo is proud to help them bring the #BuddyUp campaign to the Regional Municipality of Wood Buffalo. This program was created for men, by men encouraging them to have REAL conversations with their buddies, and support those having thoughts of suicide. Fort McMurray and the RMWB have their own unique set of struggles. Workers come from across Canada, often away from their families for weeks at a time. Working long hours with little to no time for a social life can make life feel exhausting. They also may be struggling with the after effects of the 2016 Horse River Wildfire or the 2020 Athabasca Ice Jam/ Flood. Anxiety about world events combined with the economy and fear of losing one's job can make things even more difficult. The COVID-19 pandemic has only exasperated this situation as many workers feel cut off from the rest of the world with the lack of socializing activities available to them. It is our goal to spread the word about this program, and hope that men are safely able to "Buddy Up" and make sure no man gets left behind.
Using the resources made available to men in this campaign, they'll learn about warning signs and how to have a conversation with someone you're worried about. There are some fantastic resources available here. 
Want to become a Champion? The world needs people like you to help spread the word that men's suicide is preventable.
SIGN UP TO BE A CHAMPION HERE.
Join the Buddy Up challenge for the month of June. Throughout the month, we encourage you to complete activities that promote mental well being and drive connection with others.
Print off your own sheet or download the photo to your phone HERE.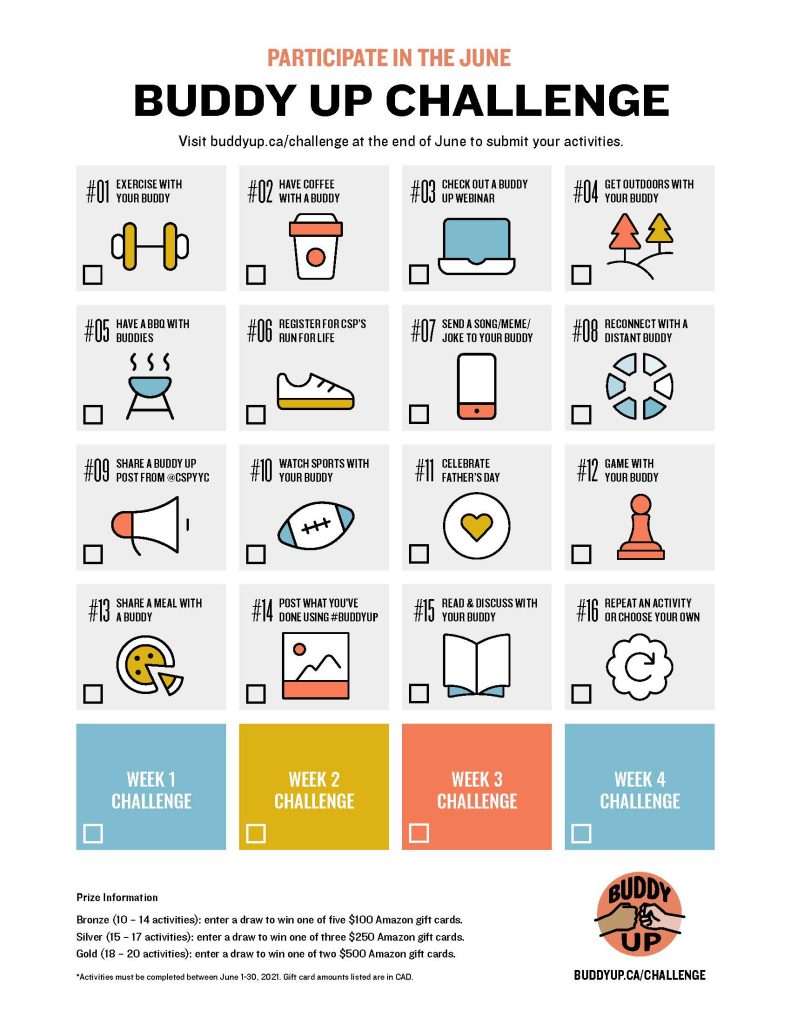 How to talk with someone you might be worried about:
1. Pay Attention
Any noticeable change in his behaviour is a warning sign your friend may not be doing so well. These could include drinking or using drugs more than usual, appearing tired or distant, talking about how much life sucks or, being more irritable or angry.
2. Start a Conversation
Choose a comfortable setting: over the phone, while driving, or while working on a project together. Don't blame or shame him, mention what you've noticed: "I haven't seen you around much these days. Is everything okay?"
3. Keep it going.
Ask questions and listen to what he's saying. Avoid instantly problem solving. Don't make it seem like he's overreacting and don't change the subject. Back him up, acknowledge his feelings and let him know you're here for him. If you're still worried about him, ask: " Are you thinking about suicide?" If he says yes, don't panic.
4. Stick to your role

You're a friend, not his counsellor. Encourage him to reach out to others. Consider calling Crisis Services Canada together at 1-833-456-4566. Follow up on the conversation and check in with him often. If your friend has imminent plans to die, call 9-1-1 and ensure he is not left alone.