You are currently on the:
CMHA National
Visit our provincial websites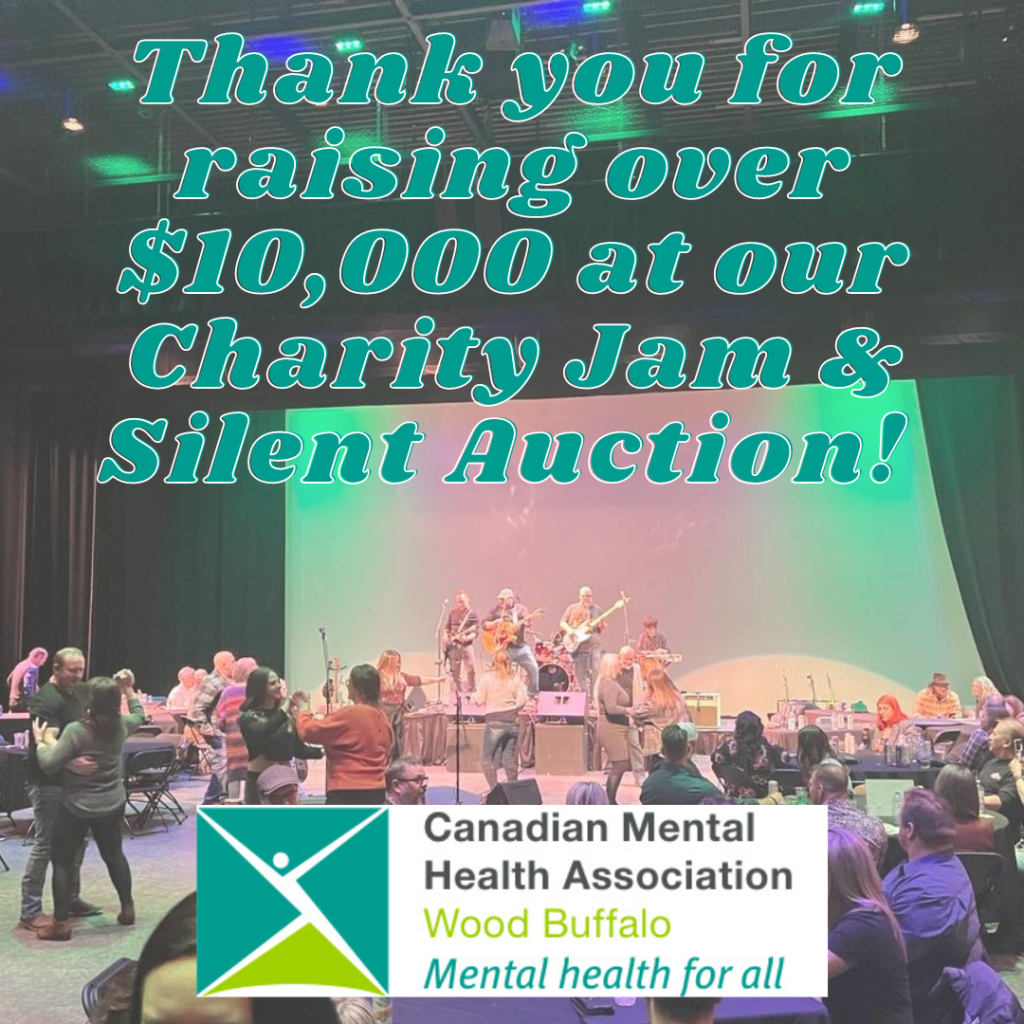 CMHA Charity Jam & Silent Auction raises over $10,000 for mental health programming in Wood Buffalo
Feb 24, 2023
For immediate release
Annual CMHA Charity Jam & Silent Auction raises over $10,000 for mental health programming in Wood Buffalo
(Fort McMurray, AB – February 24, 2023) – CMHA Wood Buffalo Region is thrilled to share the results of our annual CMHA Charity Jam & Silent Auction, held last Friday at the Suncor Energy Centre for the Performing Arts. More than doubling 2022's event, the event raised $10,158.50. All money will go to support mental health programming in Wood Buffalo.
"I am in awe of the generosity of this community and for their support of CMHA Wood Buffalo and in our work promoting mental health wellness," said CMHA Executive Director Susan Goll. "We believe music is such an important tool for positive mental health and are grateful to the music scene for banding together for an incredible evening."
The near sell-out event featured 30 musicians throughout the evening in a jam-packed schedule that featured a surprise performance from Canadian Country artist Craig Moritz. The evening kicked off with a performance from local band Joe Rebel and closed with a final super jam featuring Host Max Noseworthy, Darryl John, Ruben Rotar, and members of other acts throughout the day. Other performers included Top Shelf, Craig Maher, Kitchen Party, Nathan Robbins & Troy McConnell and The Bennetts, a local Fort McMurray husband and wife duo who's young daughter Jade joined them for the evening from Halifax.
For the first time, the event took place over two stages adding a smaller acoustic stage dubbed "The Kitchen" which featured more intimate performances from artists like Shantelle Davidson, Eric LeDuc, Dan Tulk, Jess Payette and local firefighter Adam Bugden.
Much of the financial proceeds came from a 50/50 draw and beverage sales and the Silent Auction which featured over 50 items. Items included Gift Certificates to local businesses, Indigenous handmade crafts donated by the Athabasca Chipewyan First Nation, sports memorabilia from the All-In Sports Den (including a rare, limited edition framed set of Upper Deck's "First Peoples" set, autographed by Danny Hodgson) and a bus trip for two to see the Edmonton Oilers take on the Winnipeg Jets, courtesy of Brand Connect. A live auction also raised $1,900 when Chef Sebastian, in attendance for the event, offered to cook for four people at their home.
CMHA wishes to thank our event partners the Suncor Energy Centre for the Performing Arts, Cocktails By Boots, Big Sexy Sounds, Wild Rose Catering and Table Sponsor Gail Bibeau of Royal LePage True North Realty.
The night was a fun one with plenty of libations served up by some of Fort McMurray's top bartenders – but many musicians spoke frankly and candidly about mental health struggles over the last few years.
Up next for CMHA is March Mullets for Mental Health. Individuals and businesses can sign up to raise money and create a frank conversation about mental health by either growing a mullet or wearing a wig at www.marchmullets.raisely.com . The event kicks off Wednesday, March 1st at Earls where CMHA's Mike Jones, select Earls staff and mental health advocate 10-year-old Hudson Peddle will be getting their haircuts into a millet with Robin from Short Cuts.
Also on the docket for 2023 at CMHA are a Record Store Day BBQ at the All-In Sports Den on April 22nd and the sixth annual First Responders Golf Tournament on Friday, September 8th at the Miskanaw Golf Course. Early Bird registration is set to open in April.