Imperial and CMHA help fund Heart Math at FMPSD
New digital tool helps evaluate stress and anxiety in youth affected by the wildfires
(FORT MCMURRAY, AB, February 23, 2017) Fort McMurray Public School District (FMPSD) is pleased to announce a $30,000 donation from Imperial facilitated by the Canadian Mental Health Association of Wood Buffalo. The donation will go towards funding Heart Math, a digital tool to help evaluate stress and anxiety levels in youth affected by the wildfires.
The launch event was held at Beacon Hill Public School today with senior executives from Imperial, FMPSD, and CMHA in attendance. Students demonstrated the use of Heart Math, and how to lower their stress and anxiety levels by doing simple breathing exercises. They used sensors to read their heart beat, which in turn assisted them to go from the red zone into the calmer green zone.
"Resources for mental health will be critical to ongoing efforts to rebuild in Fort McMurray," said Shane Harris, Imperial Asset Manager for the Kearl operation, who was in attendance.
"Nowhere is this need felt more acutely than with our children and Imperial is committed to supporting the Fort McMurray School District and the Canadian Mental Health Association in this important work," he added.
Emma Jones, Acting Executive Director, Canadian Mental Health Association, said the "group is proud to partner with leaders such as Imperial and the Fort McMurray Public School District, who support mental health."
Shannon Noble, Assistant Superintendent, Inclusive Education, FMPSD, noted, "part of our re-entry plan post wildfire was to provide teachers with programs and strategies to understand anxiety. We chose the Heart Math program because it allows both students and staff to recognize and reduce anxiety and in a post-evacuation environment this was invaluable to us."
"We can't thank Imperial and the CMHA enough for their support. The numerous benefits of this donation will definitely have far-reaching impact within our school communities," continued Noble.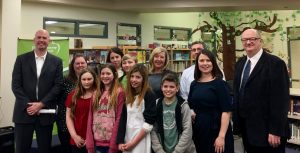 Heart Math Program sponsors, Imperial, FMPSD, CMHA and Beacon Hill students in grades 5 & 6 who demonstrated how to use the Heart Math monitors, all smile for the camera.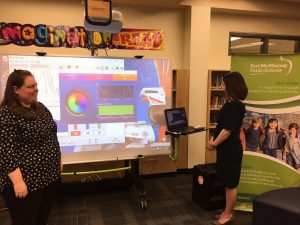 Beacon Hill Principle, Garrett Tebay, gives Emma Jones a demonstration on breathing exercises with the Heart Math Program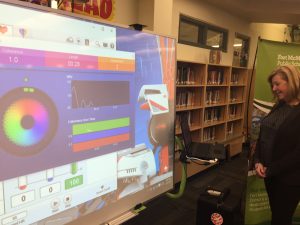 Hearth Math Program sponsor, Imperial Oil's Socioeconomic Lead, Shelley Larose, tries the Heart Math program.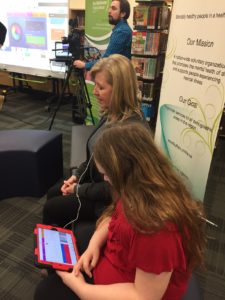 Beacon Hill students give demonstrations on how to use the Heart Math Program to lower stress and anxiety levels.