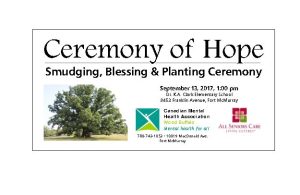 Sept 13th 2017 at Dr KA Clark Elementary School
"It is estimated that each day in Canada, 11 people end their life and 210 make a suicide attempt. Suicide occurs across all age, economic, social, and ethnic boundaries" (https://suicideprevention.ca/wspd). Now more than ever, it is vital that we all do our part to promote suicide prevention in our communities. As a part of our efforts to bring awareness to the World Suicide Prevention Week, we were privileged to put on a Ceremony of Hope Tree Planting Celebration.
During the ceremony, our Tree of Hope was smudged and blessed with the support of the First Nations community representative, Pollyanna McBain. For those unfamiliar with the term, "Smudging is an ancient Native American practice of spiritual cleansing and blessing and involves burning of certain dried herbs. The burning of herbs and resins for purification or blessings has been used in many cultures around the world. Smudging is the Native American way of using the power of herbs for cleansing and blessing." (http://www.sacredserpent.net/smudging.html)
In addition to the blessing, we had some amazing speakers share their personal stories and emphasize the importance of taking the time to discuss mental illness and suicide prevention. Thank you, Angela Betts, Jane Stroud, Jason King, Shannon Nobel, Luana, and Don Scott for speaking at the event.
We owe the success of our event largely in part to the generous support received from All Seniors Care. All Seniors Care is a well-established company that delivers support services to senior residents while promoting healthy & active communities. Originally ASC created a "Toonies for Trees" campaign; it was later renamed to "Tree of Hope" to serve as a symbol of hope for families and individuals rebuilding their lives. The $10,000 donation from ASC will go directly towards suicide prevention in the Wood Buffalo region.
We would like to thank our supporters for making this event possible. Dr KA Clark Elementary and The Fort McMurray Public School District were the most accommodating of hosts. Bridge 91.1 for promoting this event on the radio. A huge thank you to Stac's Fine Food and Unifor for hosting the reception following the planting ceremony.
Check out our supporters at the links below:
All Seniors Care: http://www.allseniorscare.com/
Some Other Solutions: https://someothersolutions.ca/
Fort McMurray Public School District: http://www.fmpsdschools.ca/
Bridge 91.1: http://www.911thebridge.com/
Stac's Fine Food: https://www.facebook.com/Chef2YouYMM/
Unifor: http://cep707.ca/